Many business users are asking themselves, "Why would I want to host QuickBooks in a data center or cloud environment?"
The answers vary but frequently include:
My business has grown and I need multiple people accessing my QuickBooks environment
I'm worried about customer data being stored on my local computer or laptop – what if something breaks or gets stolen?
To be PCI compliant, I need to host my data in a PCI-compliant facility
I want the flexibility to access my QuickBooks at the office and at home without carrying a heavy laptop with me all the time.
It would be nice to use my iPad or a simple web browser to access QuickBooks when I need it!
If one of these scenarios has driven you to consider QuickBooks hosting in the cloud, you're probably wondering, "What's the difference? Shouldn't I just choose the cheapest option?"
There is a difference!
Technology: Microsoft or VMWare?
Traditional QuickBooks hosting providers use a server/client design known as Microsoft Remote Desktop Protocol (RDP, formerly Microsoft Terminal Services). RDP is an old delivery technology that has been around since the launch of Windows NT in 1998! Using it today is still a common method of delivery.
Virtual Systems uses a proven, 10-year-newer technology called VMWare Desktop as a Service (DaaS) to deliver QuickBooks on an actual Windows full desktop environment.
Shared or Dedicated Server Resources?
With RDP, computing resources are shared on a server – you and potentially thousands of others are competing for processing resources at the same time.
With Virtual Systems, you have dedicated server resources that belong to you and no one else. You'll never be bogged down by someone else's processing needs.
Office 365
Did you know that Office 365 is not supported natively on a traditional RDP design? Ironic, right?
If you're an Office 365 user, the experience through Virtual Systems is exactly the same as on your desktop or laptop at work.
How Many Applications Are Open Simultaneously?
Microsoft RDP works very well to deliver a single application to an end user on many devices and is sometimes still the right fit.
However, in today's multi-tasking world, most QuickBooks users need multiple applications open and interacting simultaneously. How many times do you use QuickBooks along with Microsoft Office (Excel, Word or Outlook E-mail) and/or a CRM program like Salesforce?
In a traditional Remote Desktop delivery method, this is difficult to do and provide a cohesive end-user experience.
With Virtual Systems, the experience of switching between applications is exactly as fast and seamless as you'd expect on your own computer.
At-A-Glance: QuickBooks in the Cloud Hosting Considerations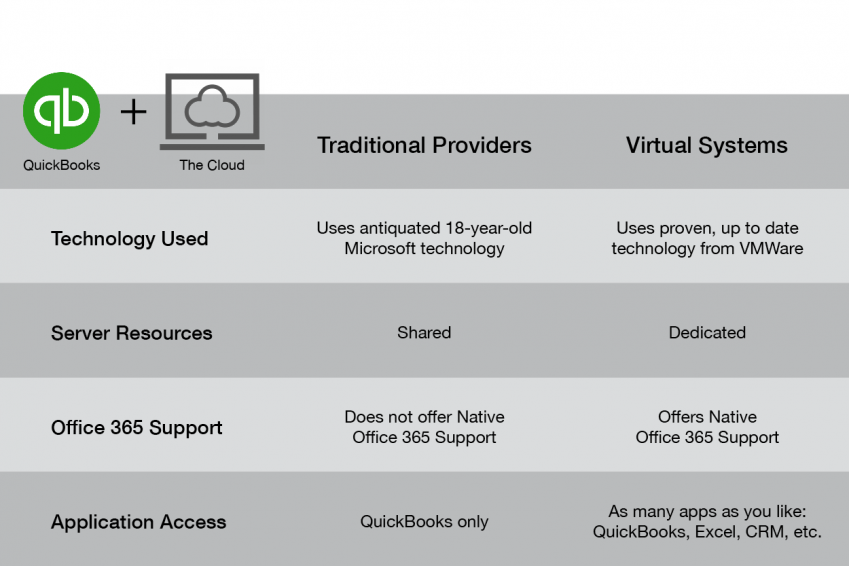 Try the Virtual Systems QuickBooks Cloud Experience Today
Virtual Systems is an Intuit Partner focusing on delivering a different end-user experience.
Want to see the difference for yourself?
Click today to sign up for a free, no obligation 30-day trial.
Written by: Michael J. Wolthuis
Virtual Systems Chief Technology Officer